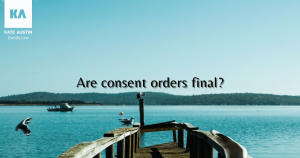 Are consent orders final?
Yes, Consent Orders are final. The court has an obligation provided by law to end the financial relationship between the parties, so a good solicitor will draft consent orders which will cover the assets and liabilities of both parties in such a way that there are no financial ties between the parties once all the Orders have been put into place.
As with parenting Consent Orders, the idea is that all of the issues that are important to the parties and to the children of the relationship are addressed in the Consent Orders and so there is no reason to revisit the matter or not make the Consent Orders final.
No matter whether it's a parenting matter or a property settlement, the court's job is to avoid either party having to bring the matter back before it. As such, it is important to keep in mind when reviewing and considering signing off on Consent Orders that they are designed to finalize everything between you and your former partner. Make sure that everything that is of concern to you is covered off and that all of your assets and liabilities are referred to in the documentation.
If you have any questions in relation to Are consent orders final? or consent orders please contact us to discuss your  proposed agreement. We provide an instant quote for your agreement online that is fixed and includes all aspects of the documentation and submission process. General information about Kate Austin Family Lawyers  can be found on our home page or if you would like information about our story or Rachel and Brendan there are links on our home page.
Kate Austin Family Lawyers provides a national service. Family Law is a federal jurisdiction so the law are uniform across the country. No matter where you are located we can assist. Sunshine Coast  Newcastle  Canberra Sydney  Melbourne 
This information is general in nature and cannot be interpreted as legal advice. Legal advice can only be provided by a qualified legal practitioner.
https://www.kateaustinlaw.com.au/wp-content/uploads/2022/01/Are-consent-orders-final_.png
630
1200
Brendan Hanks
https://www.kateaustinlaw.com.au/wp-content/uploads/2019/09/logo.svg
Brendan Hanks
2022-03-07 14:11:53
2022-01-27 14:15:30
Are consent orders final?